SeaCell™
"Iceland´s fjords – Home of the SeaCell™ seaweed"
SeaCell™ Facial Mask Innovation Creation
Seaweed ,the most original and simplest species, has been existed for 35 billion years no matter how harsh the environment it is. It just like the forest which protect the ocean, providing oxygen, and also being food for many species. Meanwhile, It will extremely improve our life with healthy if we can use seaweed as well as any ways of day life, even protect the earth friendly and harmless

all life comes from with the power of the sea.hippocrates knew this more than 2000 years ago. the seacell - idea is based on this knowledge and if is quite simple.the natural and pure nutrients of the sea are good for our skin.
SeaCell ™ Feel the fiber of the company smartfiber (www.smartfiber.de) from Germany is another fiber that we are offering. The SeaCell ™ fibers contain valuable active substances from seaweed, which nourish the skin, promote health and feeling.
The brown algae (ascophyllum nodosum or knotted wrack) embedded in the SeaCeLL ™-fiber comes from the cold, pure fjords of Iceland. The slopes of these sea arms are sparsely settled, and their untouched nature is paradise for wildlife. The seaweed is full of minerals sea water – enriched with vital substances, free of contaminants and of the highest quality.
Why Seacell textile is brilliant to human body?
We use natural stable to manufacture our products because we want the burr touches human's skin, therefore, we use the characteristic of seaweed for calming emotions and release your negative energy.
Seaweed has another amazing feature: Adsorb the metal ion. Because it contains phenolic compound possess the ability that combines with heavy metal. In manufacturing process of seaweed fiber, put silver ion into complete shaped cellulose fiber, embedded sterilization metal in fiber inside, this is SeaCell® Active. It's well contained in the fiber, so the effect won't be washed away.
Seacell is also known as calming the sympathetic nerve, therefore yoga clothing are using this smartfiber massively as well.
Advantages
Nutrients to the skin
The properties of the algae are beneficial and revitalizing the skin. Algae contain minerals, trace elements of iron and iodine, amino acids and vitamins. Therefore algae are also in demand in cosmetic products. The natural skin moisture, the nutrients are released when wearing and perform the treatment functions - even after many washes. So the body can regenerate from the daily stress.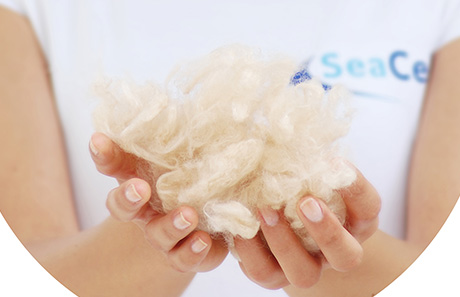 Incredibly soft
thanks to the special combination of extraordinary softness, gentle care, and protection for your skin, SeaCell ™ brings you the best nature has to offer. In doing so, the fiber has no cytotoxic effect. Even sensitive skin shows no adverse reactions. So in terms of skin physiology, SeaCell ™ can be classified as harmless.
Protects course
The brown seaweed has many advantages such as the inhibition of inflammation and itching, activates cell regeneration and protects the skin against environmental influences. It reduces skin damage and premature aging caused by free radicals
Minerals & more
Miracle cures for the skin Your skin needs nutrients to stay healthy and beautiful. Mineral substances and trace elements are important, for example, since they invigorate your metabolism. In addition they have a positive impact on cell renewal, water balance, the healing of wound sand protect from the sun. Amino acids have a smoothing effect, while vitamins support the natural protective role of the skin and protect it from free radicals.
Antioxidants
Protecting against free radicals The nutrient-rich knotted wracking SeaCell ™ doesn't just let you feel the sea on your skin; it also has a property to effectively combat free radicals.
SeaCell™ Application
Opportunities to use SeaCell ™:
Home textiles such as linens, pillows and blankets
Sleepwear and underwear
Sport clothing
Leisure clothing
Child and infant clothing
---
Shirt
Gloves
Sports clothing
Underwear
Fashion apparel
Towel
Bathrobes
Baby clothing
Sock
Pants
Pajamas
Riding Related Products
Hat
Goggles
Wool fabric
Functional clothing
Scarf
Safety gloves
T Short/Long T Short
Dresses
---
Know more about SeaCell™
Here you will find our selection of SeaCell™ promotional materials for download. Many promotional materials can also be ordered directly from us. Please contact us for further inquiries.
Get in touch with us
If you have any comments, inquiries or questions concerning our products & services, please fill in the following form and we will get in touch with you soon.
Contact us